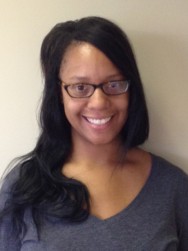 One of the newest members of the École Maison staff is Azerdae Banks.  She joined the center in October 2013 as our new cook.
Azerdae has previously worked in a childcare setting.  Prior to joining us, she served as a Toddler teacher at a different center.  She is certified in CPR and First Aid.
Though she works in the kitchen creating home-cooked meals, Azerdae loves being involved with the little ones.  It is something that energizes this 27-year-old.  "It's always been a passion of mine," she writes.  "I love taking care of children as if they were my own."
Azerdae is a native of Columbus. She is engaged to be married and has two children of her own.  This former cheerleading coach loves to shop in her spare time.  To satisfy the active side of her personality, Azerdae enjoys the thrill of waterparks and, like many of us, looks forward to vacationing as well.
While working with children is her passion, Azerdae has come to value the friendships she has made with her co-workers.  Those friendships are what she enjoys most about working at École Maison.  "We're just like very close family here."
With Azerdae Banks providing smiles, kindness and nutrition, it's easy to see why École Maison Enrichment Center is Hilliard's premiere preschool and daycare center.