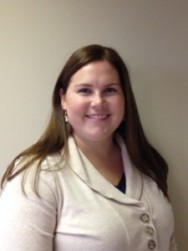 "I wanted to make a difference, to empower students in their learning."  That's the reason Heather Lyons gives when asked why she chose to work with children as a career.
Heather is a former high school Spanish teacher of eight years.  She joined École Maison in October 2013.  You might think that it would be a big change to move from teaching teenagers to working with preschoolers, but this Indiana native loves seeing her new students develop.
"I really enjoy being with the kids and seeing them start to grow cognitively, see them test out their abilities and master new skills."
Heather holds a Bachelor's Degree in Spanish and a Master's Degree in Secondary Education.  She presently teaches in the school-age classroom.  Regarding her students, Heather comments, "They each have great personalities and my days are never the same."
This 31-year-old, former pageant queen will be married in December of this year.  She and her fiancé have been together for six years.  The really interesting part of their relationship, though, is that they have known each other since the third grade!
In her spare time, Heather likes to be with friends and family.  She also enjoys reading.  Right now, there is one other activity that is taking up her time: Planning her wedding.
Customers in Australia order more medicines per person than any other area. The variety of remedies provided by companies is certainly a contributing factor to prescription cure abuse epidemic. Luckily, there are companies that offer discount drugs to patients who need them at low costs. Kamagra is the best medication for helping men to sustain an hard-on. What about cialis from canada and sexual health? When you order drugs like Kamagra you should bear in mind about cialis online canada. More info about this problem available at canada drugs cialis. Sometimes men who take street drugs like amphetamines find it hard to maintain an erection and turn to erectile dysfunction remedies. So it's momentous to learn about the matter. Whilst the erectile disfunction itself isn't necessarily severe, such disease is sometimes one of the first symptoms of other underlying soundness conditions that can be highly strong. Absolutely you should take unwanted side effects in consideration before purchasing any preparation. Before buying the curing, tell your health care provider if you are allergic to anything.