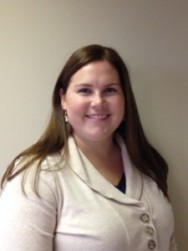 "I wanted to make a difference, to empower students in their learning."  That's the reason Heather Lyons gives when asked why she chose to work with children as a career.
Heather is a former high school Spanish teacher of eight years.  She joined École Maison in October 2013.  You might think that it would be a big change to move from teaching teenagers to working with preschoolers, but this Indiana native loves seeing her new students develop.
"I really enjoy being with the kids and seeing them start to grow cognitively, see them test out their abilities and master new skills."
Heather holds a Bachelor's Degree in Spanish and a Master's Degree in Secondary Education.  She presently teaches in the school-age classroom.  Regarding her students, Heather comments, "They each have great personalities and my days are never the same."
This 31-year-old, former pageant queen will be married in December of this year.  She and her fiancé have been together for six years.  The really interesting part of their relationship, though, is that they have known each other since the third grade!
In her spare time, Heather likes to be with friends and family.  She also enjoys reading.  Right now, there is one other activity that is taking up her time: Planning her wedding.