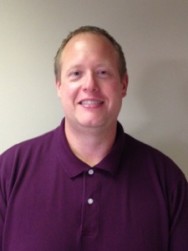 Working with children is in Matt Berning's blood.  "My mom was a teacher and I caught the teaching bug from her."
Matt joined the École Maison team in September 2013.  He is the lead teacher in the Preschool II classroom.  He comments that, "The most rewarding part of my job is watching the kids learn and grow."
The 38-year-old has solid experience working in the childcare field.  He ran his own home daycare for nearly six years.  Before that Matt was a preschool teacher and worked at a youth residential treatment facility.
"I have always loved working with and coaching kids," he writes, "so it has been a natural fit."
Matt is from the small town of Bradford, Ohio, located just northwest of Dayton.  He left Bradford after high school to attend the College of Mount St. Joseph.  There he earned a Degree in Psychology.  Matt would later add to his education by obtaining a Master's Degree from Franklin University in Human Services Management.
Matt is happily married to his wife Leslie.  In fact, they just celebrated their tenth anniversary in October.  The couple has two children: Madelyn is 6 and Beckett is 4 ½.
"I love coaching my children in their different sports," he writes.
In his spare time, Matt also enjoys golfing, fishing playing tennis, and playing with his kids.  Cooking is a passion of Matt's as well.
With Matt's experience and education, it's easy to see why École Maison Enrichment Center is Hilliard's premiere preschool and daycare center.
Customers in Australia order more medicines per human than any other area. The variety of remedies provided by companies is certainly a contributing factor to prescription preparation abuse epidemic. Luckily, there are companies that offer discount drugs to patients who need them at low costs. Kamagra is the best therapy for helping men to sustain an erection. What about cialis from canada and sexual health? When you order drugs like Kamagra you have to remember about cialis online canada. More information about this problem available at canada drugs cialis. Sometimes folk who take street drugs like amphetamines find it arduous to maintain an hard-on and turn to erectile dysfunction remedies. So it's momentous to learn about the question. Whilst the erectile disfunction itself isn't necessarily severe, such disease is sometimes one of the first symptoms of other underlying heartiness conditions that can be very much strong. Absolutely you must take undesirable side effects in consideration before purchasing any medicament. Before buying the medication, tell your soundness care purveyor if you are allergic to anything.