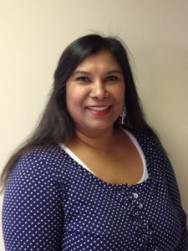 Naureen Sharif describes herself as "a southern lass from Texas," but her life's journey has made her much more than that.
She was born in Saudi Arabia to parents of Indian descent.  At the age of five, her family moved to England where they stayed until Naureen finished school.  That's when the family came to the United States.
They settled in Texas where Naureen enrolled in college and began studying Computer Science.  She met a man from Michigan, married him and moved to his home state to be with him. In 2005, the couple found themselves in Columbus.
Maybe it's because of all the moving she's done, but Naureen loves to travel.  "Whenever we get a long weekend or extra time off, we pack up the car and go," she explains.  "We've been to fifteen states already. There's nothing better than discovering new places, new cultures and new cuisines."
There's no doubt that Naureen has moved a lot, physically, from place to place.  But those moves are not the only important ones that she has made in her life. While studying Computer Science in Texas, she decided to make a career move and switch to childcare.
"I subbed at a center in Texas for a family friend and they offered me a full time position after my 2 weeks were over.  I have never looked back since."  That experience helped Naureen realize,  "I was much better with little people than computers.  I could always get a reaction out of a child….not so much with a computer."
As a childcare professional, Naureen is certified in CPR, First Aid, Communicable Diseases and Prevention of Child Abuse.  She is continuing her education toward a degree in Early Childhood Development.
She joined École Maison in September 2013 as the Assistant Director.  Before joining our center, she held the same position at a different childcare facility.
This mother of three has been married for ten years.  She loves Elvis Presley, (young Elvis, that is) and her all-time favorite song is "Love Me Tender."  Even though she has been away from England for a quite awhile now, she still thinks of herself as a Brit, "and can still do a mean Queen's English accent."
Naureen is proud of the work she does and knows she's making an impact on young lives.
"We all have to work and the hardest part is leaving our children in someone else's care. It is my job to make sure our children our loved and hugged all day long so that parents feel secure and comfortable."