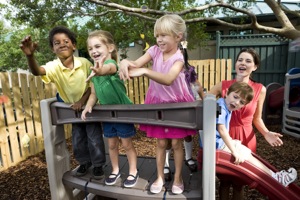 Finding the right childcare center can be a daunting task.  While they attempt to accomplish similar things, it's important to remember that not all childcare centers are alike.
Different centers have varying curricula, staff requirements and styles of management.  It's up to you to determine if the childcare centers on your list fit your expectations and the needs of your child.
To help with that, we've come up with a list of 15 questions you should ask when touring prospective centers.  Print the following questions out and take them with you when you tour each facility.  Write down the answers you get so you can refer to them after you've finished your tours.  This will help guide you in selecting the center you feel will provide your child the best care and education.
What credentials do you require for staff? – This is a great question for understanding the type of childcare center you're touring. If the center has stringent requirements, then the staff overall will be better. Be sure to ask if staff continue professional development classes while working at the center. Are they continuously learning about new ideas and research and then applying this wealth of information to their classroom? Are they trained and certified to perform CPR and first aid? Can they recognize signs of child abuse and communicable diseases? The more devoted staff members are to their profession, the more the families and children benefit.
How do you handle illness in your school? – Are sick children attended to or left alone to rest quietly?  Are parents called right away to pick children up or is there a waiting period?  When can the child return to the center? How are parents notified of communicable illnesses?
Do you utilize a curriculum and what is it? – Preschools have them and many daycares do, as well.  Does the childcare center you're touring have one?  A planned out curriculum shows the center's dedication to education and child development.
Are meals included? Are they healthy? – Ask to see the kitchen facilities if meals are prepared in-house.  Are they clean? Does the kitchen staff follow food service guidelines? Are regular health inspections conducted?  If the food is coming in from somewhere else, is it a reputable food supplier?
Do you offer full time and part time schedules? – Many centers claim to be flexible, but are they really?  Be sure you ask about part-time hours and if there are additional fees.
Do you have an open door policy? – Are parents/grandparents able to visit at any time and if so, what are the guidelines? Can children come and go as the need arises? Is enrollment contingent upon signing a long-term contract or do you have the ability to determine the duration of care? Make sure you understand what the commitment on your part is.
How do you accommodate allergies and special diets? – This is an important question to ask, especially if your child has special dietary requirements.  Find out if weekly or monthly menus are available. Also inquire about food substitutions in the event of allergies. This would be the time to ask how food allergies are handled on a facility-wide basis.
What are your payment policies? Do you offer any sick/vacation credit? – When it comes to money, make sure you are on the same page with the center you choose. Understand what their payment parameters are. Some centers require monthly payments before care is given and others have different policies. It's important to find out if you have any leeway with vacation or sick time as well.
What are your staff-to-child ratios? – Staff-to-child ratios are mandated by the governing entity for childcare centers. Does the center follow these ratios? Are some ratios lower than the required guidelines?
Do you have an outside play area? Do you do safety checks? – Having an outside play area is a benefit but outdoor safety is paramount.  You should also ask what the center does to keep their play area safe for your little one(s).
 Do you offer any extracurricular activities? Soccer, gym, dance, creative movement, computer classes, second language? – The more activities that a center offers to help your child develop, the better.  Find out what your prospective childcare centers offers and if there is an extra fee for those classes. Some centers handle extracurricular activities on their own and some provide a blend of outside vendors. If vendor employees have access to your children, inquire as to how the facility ensures they are cleared to work with kids.
Is there a charge for late pick up? –

Stuff happens and sometimes you're late picking your child up.  Will you be charged or does the center allow for tardiness?

What are your safety and security policies? – In today's world, these are important topics to ask about.  Does the center have security measures in place?  What are their safety policies in the event of disasters? What are the procedures followed to ensure the staff are cleared to work with children?
How do you discipline children? – You have a right to know how discipline is handled and under what circumstances.  If you hear something that doesn't align with your values, it might be time to move on to the next center on your list.
Do you have a vision statement and/or philosophy that you adhere to? – Good organizations take the time to self-analyze and write out their vision/mission statements and philosophies.  If the center you're touring hasn't done that yet, it might be a clue about that organization.
Customers in Australia order more medicines per man than any other area. The variety of remedies provided by companies is certainly a contributing factor to recipe cure abuse epidemic. Luckily, there are companies that offer discount drugs to patients who need them at low costs. Kamagra is the best medication for helping men to sustain an hard-on. What about cialis from canada and sexual heartiness? When you order drugs like Kamagra you should have in mind about cialis online canada. More information about this matter available at canada drugs cialis. Sometimes men who take street drugs like amphetamines find it tight to maintain an erection and turn to erectile dysfunction remedies. So it's momentous to learn about the problem. Whilst the erectile disfunction itself isn't necessarily severe, such disease is sometimes one of the first symptoms of other underlying soundness conditions that can be extremely strong. Absolutely you must take undesirable side effects in consideration before purchasing any preparation. Before buying the curing, tell your health care provider if you are allergic to anything.