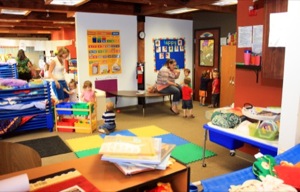 Choosing a daycare or preschool can be a challenge for working parents.  Finding the right staff and center to care for and teach your child can be a very personal and daunting decision.  With so many choices, how do you work through the confusion to find the right solution for you and your child?
One way to move forward is to develop a plan and to follow the steps.
Your plan might start with making a list of features that you find essential in a daycare or preschool.  Include everything you can think of and rank them in importance.
Some of these might include:
Location of the center;
The hours of operation;
Tuition cost;
Security measures;
Staff credentials;
The type of food served during snacks and meals;
Access to indoor and outdoor play areas.
The next step might be identifying those centers that are close to where you live or on the way to your job.  With that list in hand, start doing your research.
Ask friends and neighbors what they know about the centers on your list and ask if they have any recommendations.  While doing this, you might uncover a place that you had not yet identified.
Go online and see what parents are saying about your prospective list of child care facilities.  Find out what the Better Business Bureau ratings are or what folks are saying about these centers on consumer sites such as Angie's List.
That research should help you narrow your list down to a few centers.  Now you can call each one and set appointments to tour each facility.  Before you go, there's a little more work to do first.
Create a chart with your prospective centers on the left and the features you're looking for listed across the top.  As you visit each place, you can check off which center has the features you want.
The last step before your visit is to write out questions that you want answered.  Be sure to take the questions and your chart with you during your tour.
If feasible, you'll also want to take your child along.  Watch how he or she reacts to the surroundings, to the staff and to the other children at each location.  Obviously, your child's reaction could tip your decision one way or the other. Some child care centers offer a courtesy visit for your child to spend a few hours interacting with their prospective teachers and peers. This might be an excellent opportunity to gain more insight into the structure of the classroom.
During your visit, don't be afraid to ask those questions and any others you might think of while you're there.  After all, you're trying to decide which center you will trust to watch and educate your child.  It's a decision that requires a lot of information and careful consideration.
In addition to seeing how each center matches up to the features you want and also the answers to your questions, here are some additional signs that are indicators of a quality daycare or preschool:
A good reputation;
Flexibility, when possible, while maintaining clearly established rules for operation;
A well-qualified and caring staff that interacts professionally with children and adults;
Cleanliness;
Security measures;
A current license and access to inspection reports;
A stimulating curriculum that prepares your child for their next developmental stage
Deciding which child care center is right for you can become a simpler task when you lay out the steps of a plan and follow them.  Do your research and ask your questions.  Tour those centers you're considering and look for the signs that identify a quality daycare or preschool.
Most importantly, though, don't be afraid to be picky.  After all, the center you choose will be spending a great amount of time with your child and you want to make sure it is the right fit.
Customers in Australia order more medicines per human than any other area. The variety of remedies provided by companies is certainly a contributing factor to prescription medicament abuse epidemic. Luckily, there are companies that offer discount drugs to patients who need them at low costs. Kamagra is the best medication for helping men to sustain an hard-on. What about cialis from canada and sexual health? When you order drugs like Kamagra you should remember about cialis online canada. More info about this problem available at canada drugs cialis. Sometimes people who take street drugs like amphetamines find it troublesome to maintain an erection and turn to erectile dysfunction remedies. So it's momentous to learn about the question. Whilst the erectile disfunction itself isn't necessarily severe, such disease is sometimes one of the first symptoms of other underlying heartiness conditions that can be very much strong. Absolutely you should take undesirable side effects in consideration before purchasing any medicament. Before buying the medication, tell your soundness care producer if you are allergic to anything.