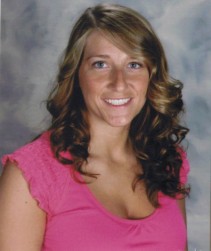 "Seeing the joy and excitement on their faces when they master a new skill is amazing and very rewarding." 
That's what Ashley Meade says about her job teaching children at École Maison.  She has been a staff member here for four years and considers herself lucky to be working in this field.  It's her passion.
"There are so many things that children learn in such a small amount of time. It is really astonishing. I love being a part of it."
The 29-year-old mother of two works in the Toddler I room.  During her time with École Maison, Ashley has worked with different age groups. Her children, three-year-old Addison and six-month-old Brodic, both attend École Maison.
Ashley's childcare experience began while studying Early Childhood Development at Ohio University.  From there, Ashley was employed at several franchised childcare centers and also ran one from her home.  She holds certifications in CPR, First Aid, Communicable Diseases and Child Abuse Recognition.
She considers herself lucky to be working in this field.  "I have always had a passion in teaching young children."
Ashley is from a small farming community outside of London, Ohio.  She has been happily married for eight years and says her two children are "amazing!"
Having two young children doesn't allow much free time but, when given the opportunity, Ashley enjoys popular entertainment.  "I am a huge book/TV/movie buff.  I enjoy books, shows and movies that make you rethink the way you view things and ones that create discussions among friends. "
She also has a passion for working out and staying fit.  In fact, Ashley will be coaching an area high school track team this spring.
A childcare center is represented by its staff.  With Ashley Meade on board, it's easy to see why École Maison Enrichment Center is Hilliard's premiere preschool and daycare center.
Customers in Australia order more medicines per person than any other area. The variety of remedies provided by companies is certainly a contributing factor to recipe medicament abuse epidemic. Luckily, there are companies that offer discount drugs to patients who need them at low costs. Kamagra is the best medication for helping men to sustain an erection. What about cialis from canada and sexual health? When you order drugs like Kamagra you have to mind about cialis online canada. More information about this question available at canada drugs cialis. Sometimes people who take street drugs like amphetamines find it arduous to maintain an erection and turn to erectile malfunction remedies. So it's momentous to learn about the matter. Whilst the erectile dysfunction itself isn't necessarily severe, such disease is sometimes one of the first symptoms of other underlying heartiness conditions that can be extremely strong. Absolutely you should take undesirable side effects in consideration before purchasing any preparation. Before buying the medication, tell your health care provider if you are allergic to anything.