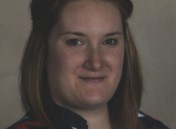 Ms. Erica attended school in Marysville but spent her senior year at Jonathan Alder High School so she could attend Tolles Technical Career Center. Erica has two children of her own, Kodi and Jaxon. She became a child care teacher because she wanted her own daughter Kodi to be able to interact with children her own age. She has never looked back! Erica loves the connection between her and the children she cares for. Seeing them grow and develop unique personalities is the ultimate reward!
Erica loves the outdoor life and often takes family hikes with her kids. You can also catch her riding motorcycles, a hobby that extends to many members of her family! But her most favorite activity is playing video games with Kodi and trying to beat her!
A cool, fun and slightly weird fact about Erica: she can shake her eyes back and forth, really, really  quickly. Ask her and she will show you!