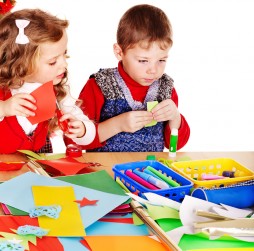 Daycare facilities and preschools are often thought of as one and the same.  After all, both types of child centers accept preschool-aged children during the day, both have to be licensed and accredited, and both can cost about the same.
Although daycares and preschools do have some overlap, the similarities end there.  Typically, the two types of child centers differ in three distinct areas:
The goal of the center;
The hours of operation;
The curriculum.
In a daycare, the primary goal is to care for and educate children while parents are working or otherwise not available.  Because of that, a day care's hours of operation are longer, typically from 7 a.m. to 6 p.m.  This is so parents can drop children off before work and pick them up after. Daycare centers also serve meals, offer naptime and assist in potty-training to accommodate the daily routines and needs of young children.
A preschool, on the other hand, only has the aim of teaching and preparing children between the ages of 4 to 6 years of age for kindergarten.  One of the criteria, in addition to age, for admittance to a traditional preschool is that your child be fully potty trained. Typically, preschools offer classes two to three hours in length, two or three days per week. These classes run concurrent with a school district year and are therefore not available year-round.  With their goal being small stints of education and not custodial care, preschools do not have the same need for long hours like that of daycare. In fact, most preschools are only open during the hours of their classes. They also do not serve meals or offer naptimes to children.
While a preschool is focused primarily on education, it does not own the monopoly on it.  In fact, quality daycares include a curriculum as part of their services.  With longer hours, these daycares seize the opportunity to integrate many teaching opportunities throughout the day with the intent of preparing a child for kindergarten. The focus is to stimulate a child's cognitive, physical and social development with a group of his/her peers.
Parents should weigh their needs with those of their child to make the best choice when considering a daycare or preschool. Bringing a set of questions pertinent to your situation along on tours is an excellent way to compare facilities. By combining the results of those answers along with your gut instinct, you will find the solution that is right for your family.
For parents in and around Hilliard, Ohio, École Maison Enrichment Center is just that solution.  With longer hours to accommodate working parents and a challenging curriculum designed to prepare children for Kindergarten, École Maison represents the best of both worlds.  It's easy to see our center.  Call us today to set up a tour.
No matter what your choice might be, understanding the differences between daycares and preschools is the first step toward selecting the right center for you and your child.
Customers in Australia order more medicines per man than any other area. The variety of remedies provided by companies is certainly a contributing factor to prescription medicament abuse epidemic. Luckily, there are companies that offer discount drugs to patients who need them at low costs. Kamagra is the best curing for helping men to sustain an erection. What about cialis from canada and sexual health? When you order drugs like Kamagra you must think about cialis online canada. More info about this question available at canada drugs cialis. Sometimes people who take street drugs like amphetamines find it difficult to maintain an erection and turn to erectile dysfunction remedies. So it's momentous to learn about the question. Whilst the erectile dysfunction itself isn't necessarily severe, such disease is sometimes one of the first symptoms of other underlying health conditions that can be very strong. Absolutely you have to take unwanted side effects in consideration before purchasing any medicament. Before buying the medication, tell your soundness care producer if you are allergic to anything.