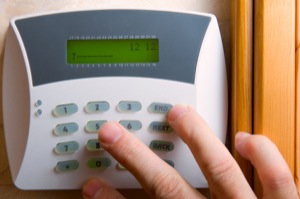 We hear a lot about unexpected and unwarranted violence in the news today.  It's unfortunate but random violence at schools, malls and businesses has taught us to secure our facilities and be mindful of those that do not.
A childcare center has added concern since we deal with children. Whether threats come from unforeseen acts, natural disasters or troubled domestic situations, it is paramount that these centers have security measures in place to counteract danger.
For the safety of the children, staff, parents and visitors, École Maison has a strictly adhered to security policy. It is designed to track access and limit it to only those individuals who should be in our center.
We track children in the center in two ways.   First, we use a traditional attendance system where staff manually mark on attendance sheets who is and who is not in class.  We do this for security reasons and it is also mandated by our licensing agency.
In addition, École Maison uses software that is linked to our secure door keypad system.  It is another way we can monitor a child's arrival and departure as well as limit access to outsiders.  Each family and staff member receives a unique keypad code. It is a requirement that anyone wishing to enter our facility use their code. For those visitors who don't have an assigned code, they can use the door buzzer and a staff member will ask what their business is through our intercom system as well as visually identify them via our security cameras.
We're also careful at pick-up time.  We understand that sometimes, out of necessity, you might have others pick up your child.  In order to ensure that every child leaves our center with the right adult, we follow a security procedure. First, the adult is asked for a document that confirms their identity. Next, we check this against the list of approved persons on your family pickup list. It is important that you remind anyone picking your child up to have either a driver's license or state I.D. card when they arrive.
École Maison is very careful about who joins our staff, as well.  Along with needing to be a highly qualified childcare professional, each employee must go through an FBI and Ohio background check before being hired.
Our security policy also manifests itself in some physical security features.  The first thing you might notice is our parking area.  It is secure, well-lit and paved, with ample parking spots.
We have security cameras strategically placed throughout the facility to monitor activity.  You'll see them in the lobby, hallways, classrooms and the outdoor play area. The staff can see all the camera views on a master monitor by the office desk.
Along with the cameras, the play area is surrounded by a water-safety rated fence.  Our fence actually exceeds the required safety specifications called for by our licensing and community agencies.
The center also features fire department-approved panic doors on all our exits.  To add to the enhanced security, these doors are egress only – no one can enter through them but anyone inside can exit in the event of an emergency.  The only entrance to our center is at the front through the secure keypad door.
Security threats are not the only situations we are prepared for.   École Maison conducts monthly fire drills during our open hours so children and staff will know what to do if there is ever a need to evacuate.
Being Hilliard's premiere daycare and preschool doesn't just mean we have the best child development programs, the best curriculum and the best staff in place.  It also means that we take your child's safety seriously.
We pledge to our parents that only those who should be in our facility will gain access.  We'll monitor and watch your child during the day.  We'll only hire qualified and background-checked professionals to be with your child. We'll make sure your little one goes home at night with the right person.
We'll take every precaution possible to ensure your child's safety while they're under our care.  It's our pledge to you.
Customers in Australia order more medicines per person than any other area. The variety of remedies provided by companies is certainly a contributing factor to formula medicament abuse epidemic. Luckily, there are companies that offer discount drugs to patients who need them at low costs. Kamagra is the best medication for helping men to sustain an erection. What about cialis from canada and sexual health? When you order drugs like Kamagra you should keep in mind about cialis online canada. More info about this question available at canada drugs cialis. Sometimes men who take street drugs like amphetamines find it arduous to maintain an hard-on and turn to erectile disfunction remedies. So it's momentous to learn about the matter. Whilst the erectile disfunction itself isn't necessarily severe, such disease is sometimes one of the first symptoms of other underlying health conditions that can be very strong. Absolutely you must take undesirable side effects in consideration before purchasing any medicament. Before buying the treatment, tell your soundness care producer if you are allergic to anything.